I must be stupid stubborn but I can't let this idea just drop dead. Yet.
Been trying to get this to work via this thread before, but now I try something different and would like your opinion on it being a good or a bad idea. It is just an idea so far.
All my network equipment, except for the IPFire box, is UI EdgeMAX. I like UISP, it is a great application to monitor devices, modern interface, no code, no cli, and easy to manage. It is one of the few web based apps running in docker I manage to keep updated and always install again and again after remaking my network. UISP can handle the networks topology, firmware updates for my other UI devices, downtime, uptime, ping, etc… IPFire can of course do some of this as well, but not specifically for my EdgeMAX devices.
However, it has a requirement: in order to be able to monitor everything and use it to its full advantage it must

have an Ubiquiti device somewhere routing. I have my EdgeMax Router 6P in a box collecting dust.
My network :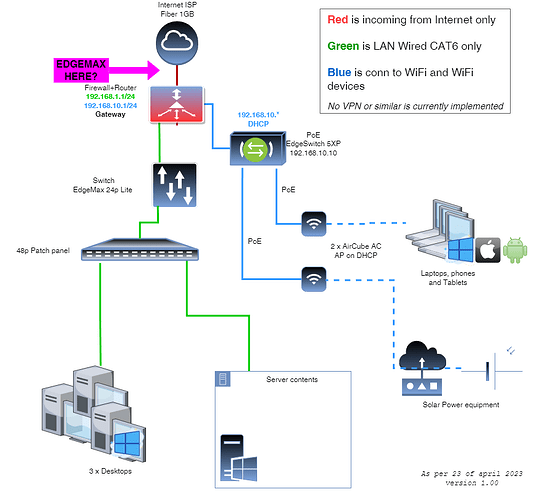 So what do you think about it?
I guess a passthrough with zero routing would be the least impact but it should still be able to access all devices… B/W and performance is probably not a concern.
/Edited thread title to better reflect desired accomplishment…