Hello, I have a big monitor and want to see more of the IPFire graph details.
My method of increasing the graph size requires two changes and some experimentation.
First of all the over all width of the IPFire web site needs to be enlarged to accomodate the larger graphs:
Edit the file:
/srv/web/ipfire/html/themes/ipfire/include/css/style.css
Edit the width near the top, 90% works for me (Note this affects all the IPFire Web UI)


Secondly to increase actual graph sizes by editing the file:
/var/ipfire/graph.pl
And change the width to 2000 and height values to something between 600 and 900, the larger height allows greater detail to be seen in the graphs.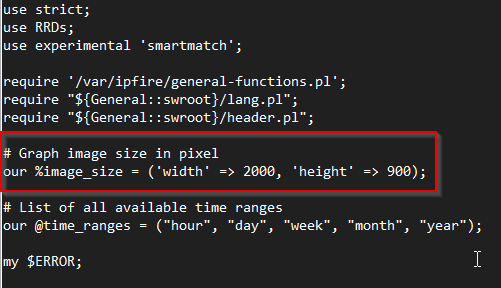 Not sure if there is a nicer or easier way of doing this.