I guess that is how it works, you use rules to open / close connections to / from the network and its diverse segments (I have Blue+Green+Red).
Scenario: a computer on Green, that is not current in regards to OS updates, needs to be blocked until I can deal with it. I create a FW rule, blocking access to Red. Thus it can not access, nor be accessed by, Internet, yet it can still access Green for backups, storage whatever.
From image below
Mac of computer
Standard network selection: Red for Internet access
Drop ( what is the difference between Drop and Reject? I know the difference is in ICMP, but how does it show?)
Activate and Log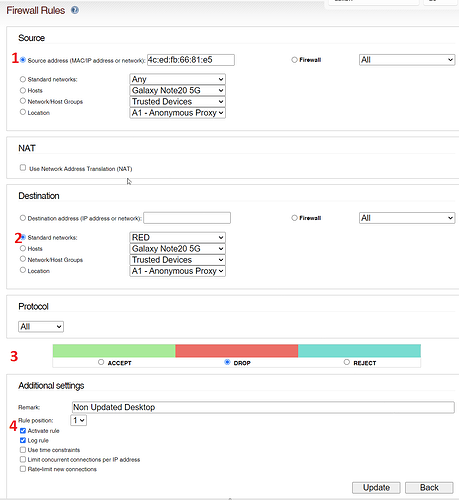 It is fairly straight forward, but I can think of some nuisances:
The computer won't be actually disconnected until its session, defined by DHCP server, times out. In my case 3600 minutes, or the computers NIC resets.
Is there no faster way? (EMERGENCY - CUT CONN NOW!) Like pulling the network cable?
Would it not be worth considering adding a "disconnect" functionality to either ARP or DHCP table?