Hello Leo @luani,
Hope all is well with you!
I am experimenting with wkhtmltopdf and I was printing some IPFire WebGUI pages and I came across an error.
I don't know javascript and so I don't know if this is an issue or not.
Warning: https://ipfire.localdomain:444/include/rrdimage.js:32 SyntaxError: Parse error
for more info on the error - click here

iMac3:~ jcmurphy$ wkhtmltopdf --debug-javascript --username admin --password <myPassword> https://ipfire.localdomain:444/cgi-bin/index.cgi index.cgi.pdf
Loading pages (1/6)
Warning: SSL error ignored                                        
Warning: SSL error ignored                                        
Warning: SSL error ignored
Warning: SSL error ignored
Warning: https://ipfire.localdomain:444/include/rrdimage.js:32 SyntaxError: Parse error
libpng warning: iCCP: known incorrect sRGB profile
Counting pages (2/6)                                               
Resolving links (4/6)                                                       
Loading headers and footers (5/6)                                           
Printing pages (6/6)
Done                                                                      
iMac3:~ jcmurphy$

Which I think is this line:
Is this something that needs attention? Should I add a bug report in bugzilla?


---
Also I did noticed is that rrdimage.js is part of every IPFire WebGUI page even though there is no rrd image on every page.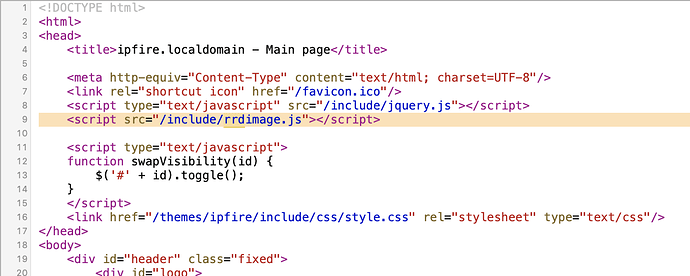 Should this only be included when an rrd image is present?
Sorry for putting my nose where it does not belong!
Jon