Hello,
I need help configuring my network. I have an unusual setup: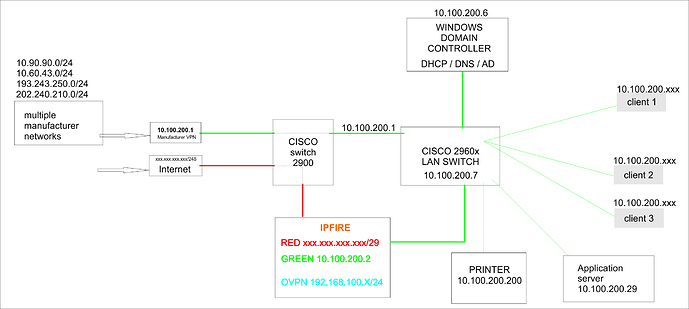 ALL the ips in this diagram are not the real ones, bu similar.
I have 2 networks:
VPN from our Manufacturer - he has behind multiple networks .
Internet line from my ISP - with 3 axternal IP.
I have the IPFire after the Cisco 2900 - that switch is managed by my ISP.
My clients (pc-s) need to access the networks behind the manufacturer VPN and reverse - the servers from manufacturer need to access printers , shares and app servers that are on my lan.
I added static routes for manufacturer networks with gateway 10.100.200.1.
I can get from my green zone clients to those networks and some apps and printers works. Some printers i needed to change the gateway to 10.100.200.1.
The problem is that i have a share on a server 10.100.200.3 where another server from manufacturer network need to place some files, every day around 4AM. I contacted the manufacturer IT, they can get to 10.100.200.1 and to 10.100.200.2, but they don't get ping from 10.100.200.3 (local server). A traceroute from my server to manufacturer server is ok - ends in 10 hops, but from manufacturer to me it's reaching over 30 hops and stops.
Because 10.100.200.1 is in the green network ipfire treat's it like a green client.
I don't have rights on the 2900 router from my isp, but from what i see it acts like a simple dual wan router.
Before i installed IPFire, i had a ubuntu as gateway, i did not see any specific rules that allowed that network traversal.
What i'we done:
added aliases for red external ip's;
added static routes for manufacture networks with gateway 10.100.200.1;
dns forwarding to my windows dc server for localdomain;
forwarded an external ip to my email server (also in the green zone);
I'm stuck at this incoming packets from manufacturer networks, i need my computers, printers, servers to be exposed to those networks.
Any help will be appreciated.