Hi,
long time ago I tried to find a good solution for my vpn connection problem here. But as luck of the draw I found another solution/idea in the internet, much closer to my needs. Question was, how can I experiment with the new wireguard protocol without touching my network setup to strange. So in this mentioned solution he works with 2 raspberrys as vpn gateway for a site to site connection. For visualisation I add a draw for a better understanding.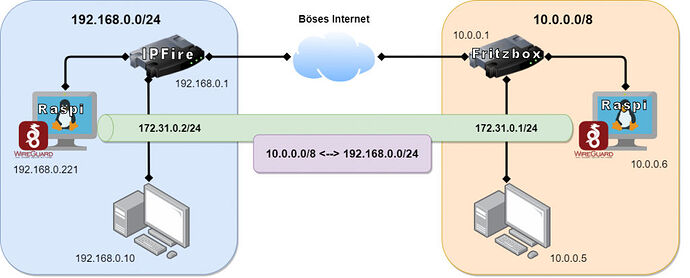 I reached the point, that the ping from both sides works and from the frizbox site all other services too. But from the IPFire side it's the ping only which works.
So now to my question. It seems it has to do with a, missing maybe, firewall rule I have to add in the ipfire. But I have no idea how it has to look like. Can somebody supports me please what I have to add to the firewall rules?
Thanks in advance.
[UPDATE]
Why I think, it's a problem with firewall in ipfire? Because ping and traceroute work. I have a static route in ipfire, which says, every package for the 10.0.0.0/8 Network route to 192.168.0.221. If i set the route on local computer, it works.