I recently ordered and installed a Tablo Quad Digital Video Recorder (DVR). My daughter wants me to activate the Tablo Connect Remote Access feature that allows users to view the videos remotely.
To get the feature working I need to poke two holes in the firewall for the two ports that need to be forwarded to the Tablo device. And I am a bit worried about this.
This is the info from the Tablo instructions:
Tablo's private IP address: 192.168.0.25
Public Port 21010 > Private Port 80
Public Port 21011 > Private Port 8887
This is what I set up as an IPFire Firewall Rule for one port (port 21010 to 80):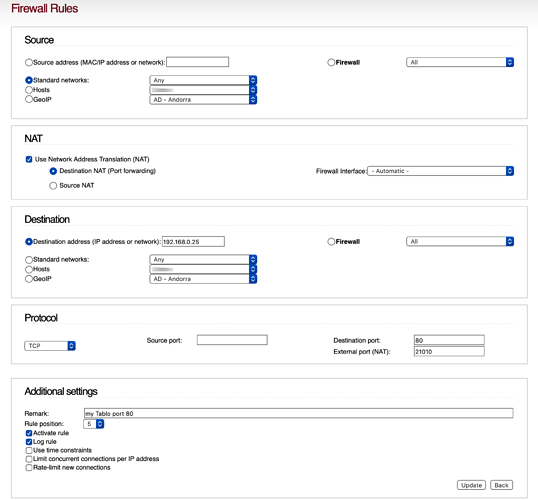 With another rule for the second port (port 21011 to 8887).
So my questions are:
Is there a better (safer?) way to accomplish the same thing?

like adding her MAC address as the Firewall Source address?
or adding a GeoIP for the US?
(Neither which sound all that safe…)
For reference - here are the Tablo instructions:
Tablo Connect and Port Forwarding
EDIT: added firewall rules image