Hello everyone,
I have noticed something strange on one of my Ipfire firewalls. My firewall is making the PPPoe connection to my ISP itself (the ISP router is configured in bridge mode).
Sometimes I notice that my PPPoe connection shows the status "Idle" on my firewall interface while the Internet connection is active. Only the OpenVPN (net-to-net) and Pakfire client connections cannot communicate over the Internet !
Have you ever noticed this ?
When this is the case I try to execute the command "/usr/local/bin/connscheduler reconnect" but this one once launched through the terminal never finishes ! (see below)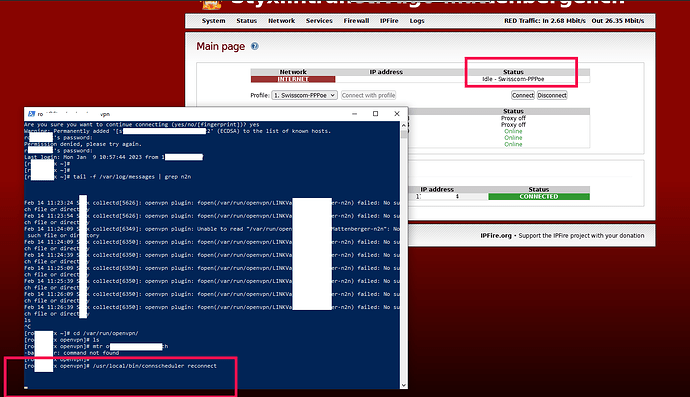 …I have to kill the command with "ctrl-c"!
To restore the PPPoe connection to the "connected" state and then be able to restore the n2n OpenVPN connections and allow pakfire to work, I have to run the following command "/etc/init.d/network restart red"
It is very strange this "Idle" state of the PPPoe connection and the fact that the Internet connection is partially working !
Is this a bug?
(My config: ASUSTeK COMPUTER INC. ‐ P9D-C Series | IPFire 2.27 - Core Update 172 | Intel(R) Core™ i3-4130T CPU @ 2.90GHz x2)