Hi Community,
To realize FTP-access to my Synology-NAS, I need to do a port forwarding from my Fritzbox to my external IPfire and further to the NAS. So I've configured dyndns at the Fritzbox (ping from extern ok) and forward port 21 to the external IP of IPfire.
Than I've set an new firewall-rule in IPfire to forward port 21 to the NAS.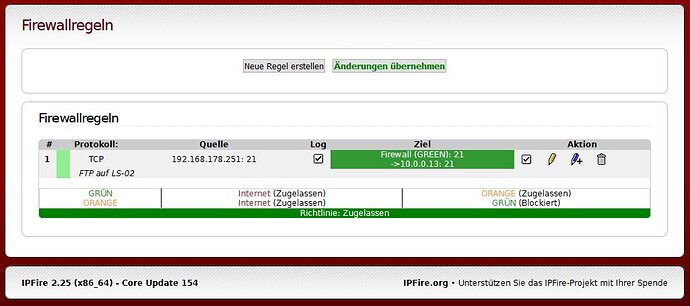 The NAS-firewall isn't active and the FTP is reachable at port 21. From internal, the FTP-service is reachable, but from external, port 21 is closed.
Somebody knows, what is wrong in this configuration?
Fritzbox 7530: IP 192.168.178.251, dyndns ok, portforwarding TCP Port 21 > IPfire (192.168.178.250)
IPfire (2.25 (x86_64) - Core Update 154) external IP 192.168.178.250, internal IP 10.0.0.250
Synology DS218): FTP-service active, NAS-firewall off, IP 10.0.0.13