Dear all,
this is my first message, migrating to micro-pc + ipFire few days ago and coming from a (very good) netgear fw318g, retired after 7+ years protecting my LAN

Well, as common habit entering in a large community, a short presentation of myself.
I'm from Italy, now retired as my netgear (LoL) after 38+ years spent in ICT, covering a lot of roles from old fashioned card punch hole (early '80 last century) to the new age of IoT. Nothing has changed in my honest opinion, considering we still have on the left a monitor, on the right a Server, in the middle a wire(less). Kitchen, gardening and photography are my hobbies, but ICT is and will remain in my heart, so here I am

Well… go back to the reason of my question:
The topology of my LAN is as this pic:
edit: removed as per Forum rules (only one pic is permitted to newby). Anyway it is the same as new one -see below- just changed the router (as well explained in the text).
Changing the old netgear, I've bought a micro pc, installed debian10 + virtualbox + ipFire. I've maintained IP, DHCP, server config etc of my previous LAN, only replaced the hardware and the firewall software.
So, in short, the new topology is as below: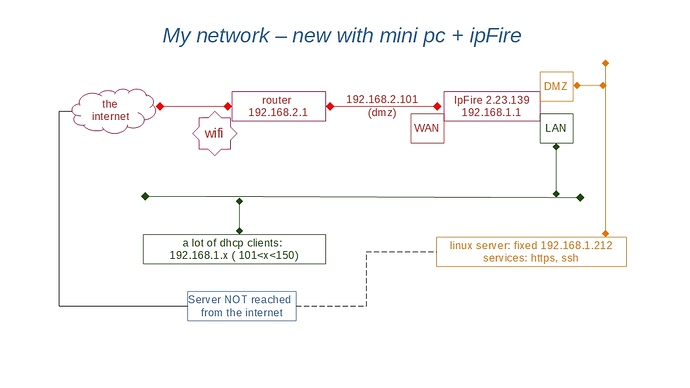 All clients, including the server, are able to go outside immediately after the installation without actions from myself. To permit to access the server from outside, I've created a new rule (to be honest more than one, one by one tested) to permit, from internet to see the HTTPS Web server, including the very dangerous ANY:ANY (for few minutes) but none. From outside can't arrive to my https server.
Where is the block? What's wrong? Because nothing has changed in my old configuration, except the firewall, I guess the block is inside it. Well, but where?
Any ideas? Suggestions?
Thank you so much in advance for gentle replies, and "Ciao" from Italy
Paolo