Recently, about mid day, but maybe other times (the graph doesn't allow scrolling back to different times) I've been busy working when my Internet connection craps out. My SSH, RDP, and VPN connections all drop. my VOIP calls cut-out u but restore themselves. My Firewall optios are set to log "NewNotSYN" but I'm not sure if plainly disabling the logging, or adding a proper Rule will solve the issue.
As you can see, I'm not even scratching the surface of my CPU, or NIC (25x480Mbps) but the sudden influx is enough to flog my connection. Why? On the backend I have a SATA SSD for logging, with plenty of space. Thoughts?
(I didn't get a screencap of the external Network traffic, but it was minimal.)
Here is one from last week…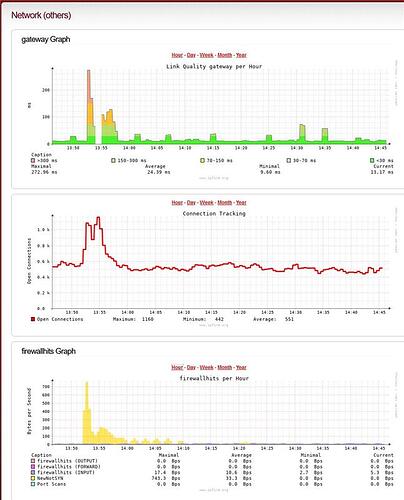 I have two more screencaps from today, but I'm only allowed 1 image at a time.