The setup:
Virtualbox on win10 home
Ipfire installed on virtualbox
Inside is 192.168.100.0/24 - host-only w/IPFIRE DHCP
Outside is 192.168.1.0/24 - bridged to wifi w/static ip
The issue:
My wife bought an iphone11pro and connected it to home wifi, outside the ipfire firewall. At the same time I was(by chance) looking at the ipfire DHCP server and it listed a machine with hostname iphone_***** with ip address and mac listed, immediately I asked my wife to check the mac address of the phone and it matched exactly to the one on ipfire inside network.
Note:
Only configured network, default gw, dns
Question:
How did the iphone get on the inside network, this makes no sense at all.
Possibilities:
There's a flaw in ipfire security configuration
Iphone managed to breach ipfire security
Annexing pics from ipfire and iphone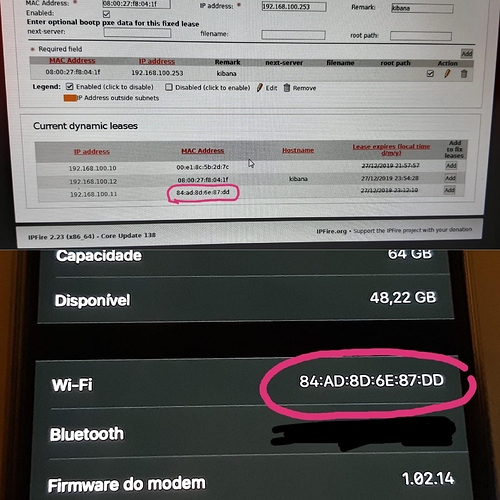 Note: pic doesn't show hostname, but it was there, nevertheless the mac proves it.