Hi,
I've tried the first time IPFire on VirtualBox so I can (hopefully) easely swap the productive system with a testing environment.
However I can't get green to work and therefore can't configure IPfire after the installation.
Hardware is the same as before and of cource all network cards + the network itself works fine.
I have a Intel AX210 wifi for red and 4x 10GB Intelö X710 for green, blue and orange. Red works fine.
All 4 networks in VirtualBox are in Bridged Mode. The NIC assignment is also right. I checked the interface names on the host with the VirtualBox network cards configuration and also enabled/disabled the "virtual network wire" and cross ckeched it with ethtool within IPFire to see the link tatus change. However I can't access then webif from the host or any other network client. Apater 2 is green. All adapters have the same settings. I also changed "paravirtualized network" to one of the old Intel cards (I don't want to because of 10GB) but no change.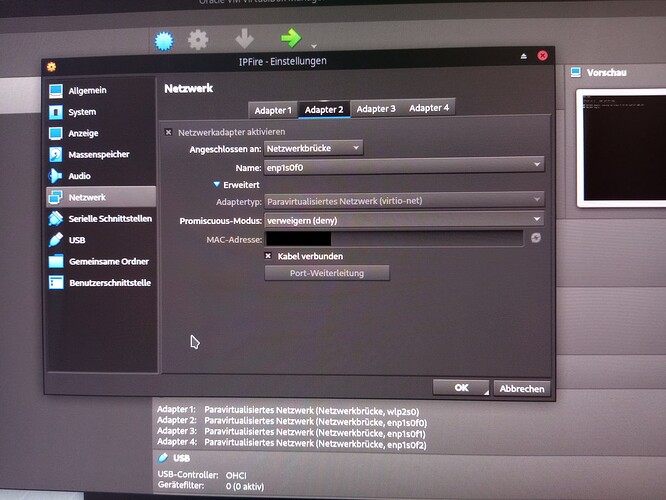 Also I'm getting a DHCP server error out of the box and I can find some RX drops on green: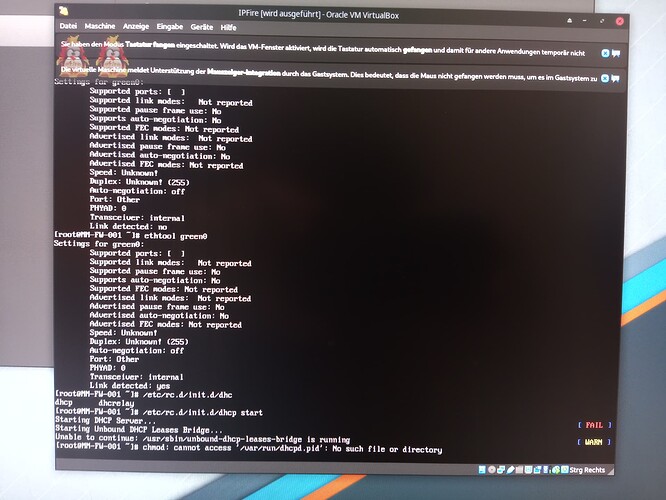 Threfore DHCP can't work. I don't know that warning.Any hint?