Hello.
I tried IPFire on my APU2 and I can't get around a broken DNS problem.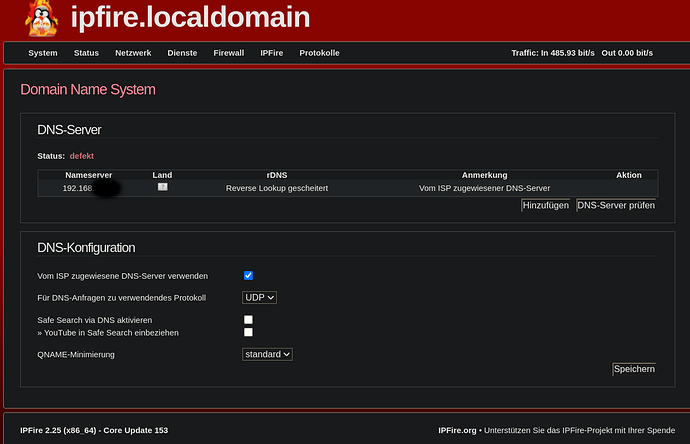 The setup:
ISP <- FritzBox <- APU2 <- managed switch
IPFire is installed on APU2. IPFire is connected on LAN interface 1 of FritzBox. That's the red interface. The red interface automatically gets an IP from FritzBox (DHCP).
Next is the green interface. It's connected to a managed switch so that my devices connected to the switch will hopefully get internet access. IPFire manages a DHCP for the green interface. That should be alright.
I installed IPFire the proper way like this instruction: IPFire installation and configuration for APU2 - asciinema but without the blue interface. My APU2 runs with latest Coreboot firmware.
I just don't know how to get DNS running. I tried disabling ISP DNS and added some DNS from https://www.opennicproject.org but it also did not work. Also tried UDP, TLS and TCP on each DNS. Everything was the out of the box install so I did no firewall changes at all.
Red and green are both "Normal". No bridge at all.