Hello everyone,
I want to set up an IPSEC VPN tunnel to Amazon's site-to-site VPN service. I have retrieved the VPN configuration file after setting up the service on my Amazon AWS console and have started filling in the fields on my Ipfire to configure IPSEC.
Here is my configuration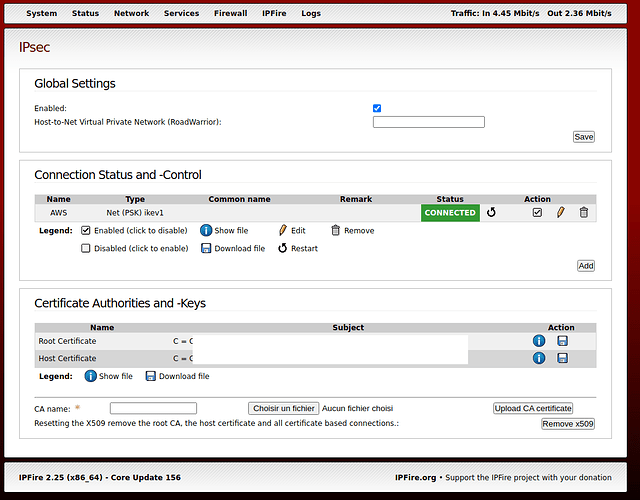 Connection: AWS
local subnet: I specified my Green network
Remote host/ip: I specified the ip of what Amazon calls the outside IP addresses of the virtual private gateway
Remote subnet: I specified 0.0.0.0/0
IPsec Setting
Mode: Tunnel
Interface -None (default)
MTU: 1436
Ip address/Subnet Mask: I left it blank
Authentication:
Use a pre-shared key: I have specified the Pre-Shared Key provided by Amazon
In the advanced menu
Keyexchange: IKEv1
Encryption IKE: I left the default checked
Encryption ESP: I left the default checked
Integrity IKE: I left the default checked
Integrity ESP: I left the default checked
Lifetime IKE: 8 hours
Lifetime ESP: 1 hour
Groupptype: I left the default checked
Dead peer Detection
Action: restart
Timeout: 120
Delay: 30
IKE+ESP = checked
Perfect Forward Secrecy (PFS): checked
Start action: On demand
Inactivity Tiemout: 15 min
The VPN shows connected but no route is created and I have no IP address associated on the Ipfire GUI homepage !

I would really appreciate your help


Mickaël