Hello from few days I have reported disconnections to a local server located in DMZ from green side of IPFire.
To understand below is the diagram: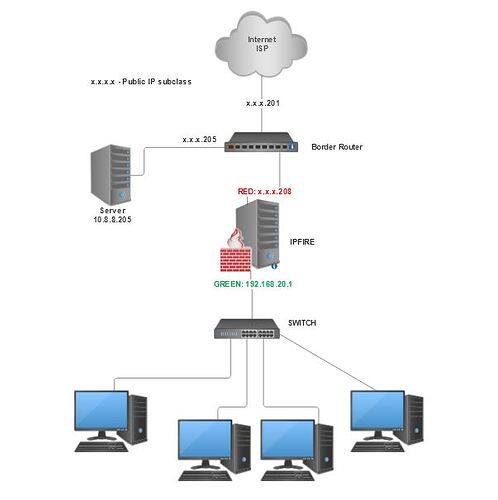 In the logs I noticed the following entries (a few thousand):
DROP_CTINVALID red0 TCP 10.8.8.205 x.x.x.208 443(HTTPS) 54518
…
DROP_NEWNOTSYN red0 TCP 10.8.8.205 x.x.x.208 7778 49824
The disconnection takes about 5 minutes during which the respective logs appear, after which everything works correctly. From outside of LAN (Green) everything running normally (Ex: If I connect from my phone to respective server it's working).
The Border Router make src nat and dst nat for that server (10.8.8.205 to x.x.x.205).
The problem has been manifesting for several days and I don't know where to start. I downgraded both routers, but it still appears. It usually appears 4, 5 times a day, for 5 minutes each.
I ask you for an advice, what do you think is wrong. Who is guilty: Border Router or IPFire?
Thank you.