Hi, appreciate community. I'm going to use a Kupa X11 Pro Tablet PC as Ipfire server and It have a Bluew-2310u wifi bluetooth card combo, the card is not working and I'm going to buy a replacement. This card is Bluetooth/wifi combo. I have tested Broadcom BCM94313HMGB, but only works Bluetooth, not wifi. I'm checking the wiki
https://wiki.ipfire.org/hardware/networking
In the following image you can see the card came with te tablet (Bluew-2310u) and the card that I tested and It only worked Bluetooth in windows 7 (Broadcom BCM94313HMGB)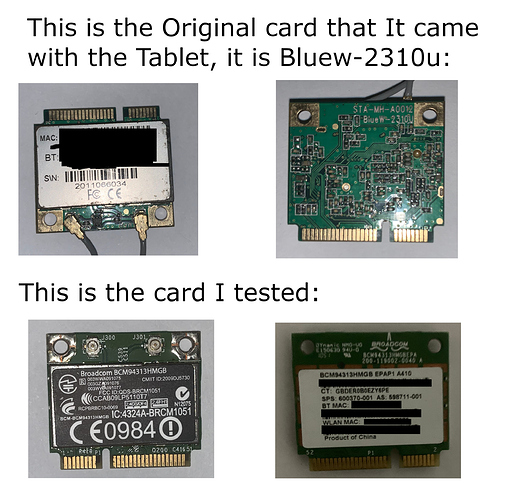 .
And this is the card I like to buy, Stk9100clqg Bluew-2310u
Wifi/Bluetooth Card to buy
I need one that works with Windows 10 too.
I think Bluew-2310u is linked with my Kupa and I think another only works Bluetooth, but I'm going to test other cards if you suggest other cards. Thank you, ladies and gentleman!