Hailings and thanks for the time.
I am working in a university computing lab and I set up a spare PC with IPFire as the new firewall device for the whole lab.
Here is a diagram of the network as is with the names of the hosts on it changed for security reasons: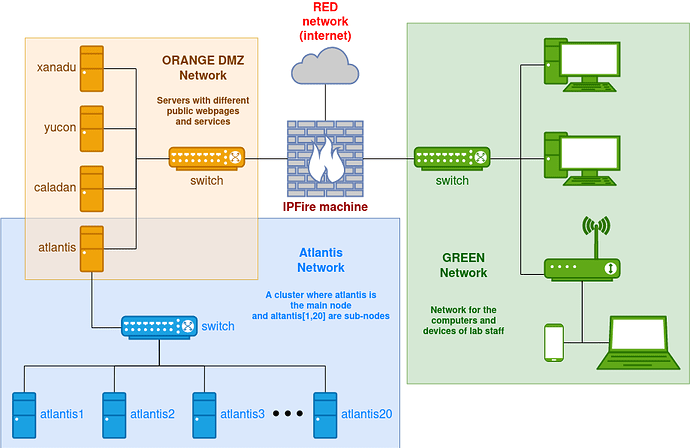 The firewall has several IP aliases that map to the hosts in ORANGE, for example: 10.50.1.100 is the public address of yucon, and locally yucon is 192.168.1.100 to allow external acces to them
Also atlantis has a firewall and a bridge setup to allow all the atlantisN nodes to have internet access.
The only rules I have setted up in IPFire are allowing SSH (port 22) and HTTP (port 80) from ANY source to be NAT port forwarded onto the corresponding host in ORANGE.
But starting a few weeks ago, all the atlantisN hosts cannot see any host in ORANGE. No ping, no ports open according to nmap, no server to respond to web requests of any kind, anything. as far as they are concerned, they do not exist.
funny thing is that atlantisN hosts have perfectly fine internet access.
Also, both atlantis and all the hosts in GREEN can establish a connection perfectly to the hosts in ORANGE and use all the services on those hosts, even the ones that aren't SSH and HTTP.