Hello
I have a curious behavior here on my system since the update to Core 180.
On my system I have QEMU installed and about 4 VMs running as well as a VM with CheckMK (monitoring).
My CheckMK now repeatedly reports connection losses to the monitored systems or their agents.
I definitely have this only since the update and can't explain it at all or make sense of it. The systems are always reachable via normal ping and sometimes have up to 15ms response time instead of the usual 1ms.
The services checks from CheckMK are also shown as OK after a while.
Here's what I could briefly see as a message on CheckMK when it lost connection to the agent on the hosts.
[agent] TCPFetcher(family=<AddressFamily.AF_INET: 2>, timeout=5.0, host_name='webproxy', encryption_handling=<TCPEncryptionHandling.ANY_AND_PLAIN: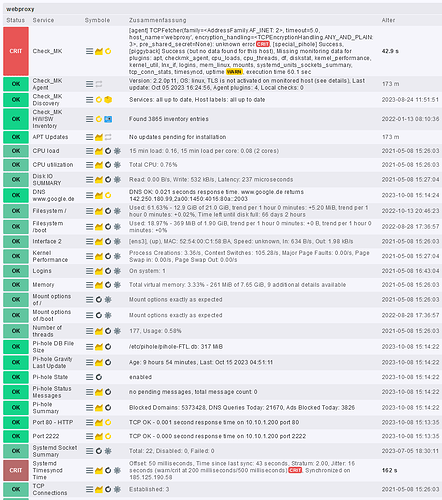 As far as I know the QEMU AddOn was updated to version 8.1.1.
Maybe someone else has this behavior since the Core 180 or maybe an approach in which logs I should look?
Kind regards Paul