Hi,
I have several server running on my XigmaNAS VirtualBox.
My home network look like:
Router 10.0.0.1
XigmaNAS 10.0.0.100
My XigmaNAS hardware
INTEL X79 INTEL (INTEL Xeon E5/Corei7 DMI2 - C600/C200 Cipset)
CPU 16cores 2700MHz
RAM 64gig
I have install IPFire last version 2.27(178) and test an older version 2.25(158).
My virtual setup is simple:
RAM 4096MB
CPU 2cores
Network adapter 1 - NAT Card 82540EM
Network adapter 2 - Bridged Adapter 82540EM
In IPFire, my RED is on adapter 1 and GREEN on adapter 2.
RED
On network adapter 1
DHCP IP 10.0.2.15 Gateway 10.0.2.2 DNS 10.0.0.1
GREEN
On network adapter 2
Static IP 192.168.0.1
From my computer with IP 192.168.0.3 i can access the web gui (https://192.168.0.1:444) without problem.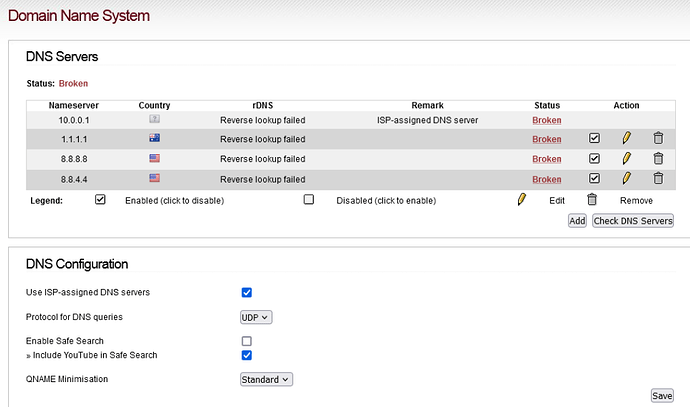 From the CLI i can ping on the following IP without problem:
10.0.2.15 RED
10.0.2.2 GATEWAY
192.168.0.1 GREEN
192.168.0.3 Another computer in this subnet
I can't ping on the following IP (No response):
10.0.0.1 Local DNS
1.1.1.1 Cloudflare DNS
8.8.8.8 Google DNS
8.8.4.4 Google DNS
I got the same result with both version of IPFire 2.27(178) and 2.25(158).
I have no problem with my others virtuals guests with network in NAT or Bridge mode.