Hi there,
I just made an ipfire installation on a APU2C4 and everything is working as expected except one thing.
This is my home setup :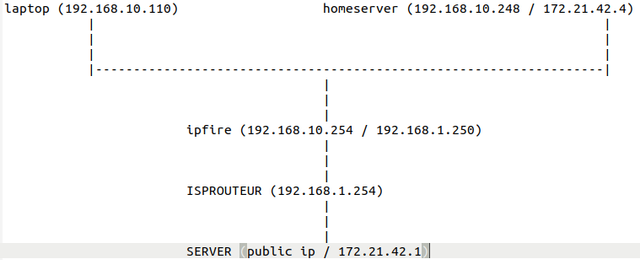 There is a wireguard tunnel between homeserver and SERVER on the subnet 172.21.42.0/24.
On ipfire, I added a static route with : 172.21.42.0/24 via 192.168.10.248.
From homeserver : ping ok and wget http://172.21.42.1 ok.
From laptop : ping ok and wget nok.
In ipfire logs, I just see :
DROP_NEWNOTSYN green0 TCP 192.168.10.110 172.21.42.1 56838 80(HTTP)
The worst, when I try telnet 172.21.42.1 80 from laptop, it's ok but I can't get /
Anyone would have an idea ? It starts to turn me crazy.
Thanks.