I have a small home network split into two sections. I guess it's similar to a DMZ situation and it may become that situation eventually. The outer section is where all the wireless devices in our house connect. I didn't originally have the inner section of the network, so I don't have ethernet cabling everywhere in my house right now. Now that I have installed IPFire and set up the inner section of the network, I can't access the inner section of the network with my wireless laptop. I don't want to access my application server through the internet, I just want to connect to the WAP between my cable modem and my IPFire router with my laptop, come through the IPFire router and access my application server. I'm not sure if I need a VPN, a VLAN or just do port forwarding through the router. Right now all I'm accessing is the web interface on a Redmine setup, but I will do more later. Eventually I'd like to set up the Redmine server (and other apps) so my family/friends can access it from the internet, but baby steps Bob.

I'll try to attach a PDF of my network to help explain. Thanks.
Don
P.S. Ok, I see PDF's are not allowed. I'll convert and try again.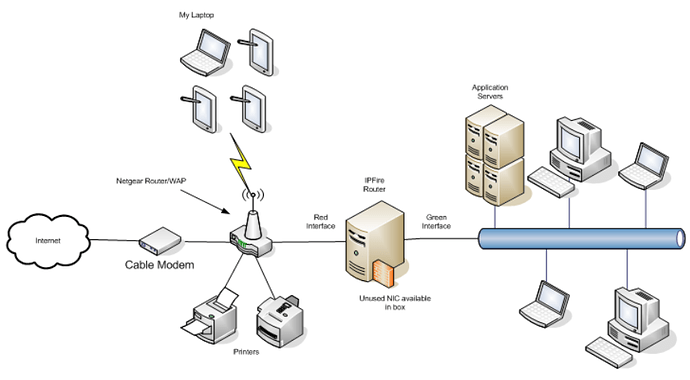 P.P.S. Oh yeah, I forgot to mention I have an unused NIC in my IPFire box, so I can add a segment of whatever type you guys recommend.