Hi,
I've recently updated an IPFire box from Core Update 146 to 153 and suddenly all whitelisted domains in URL Filter are ignored.
I've blocked "searchengines" and "socialnet" categories and then added into the "Custom whitelist - allowed domains":
google_com
linkedin_com
…others…
Then browsing to google_com or linkedin_com or accounts_google_com is blocked with a TUNNELL ERROR.
Removing the categories "searchengines" and "socialnet" will let clients to browse correctly.
I tried disabling and re-enabling the URL Filter addon, disabling and re-enabling custom whitelists, rebooted several times but nothing worked.
Web proxy is not transparent.
Here some screens about the entries found into "URL Filter Logs" and of "Custom whitelist"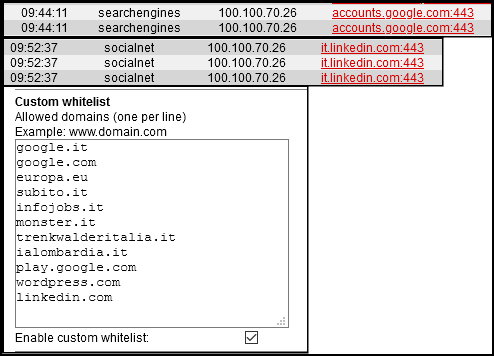 PS: I had to write domains with an underscore otherwise, as a new user, this new forum wouldn't let me post since there's a limit to post only two "URLs"…