Hello,
i am new to IPFire - and in Firewalls in general. But by reading in the forum - i was able to build this setup (works fine).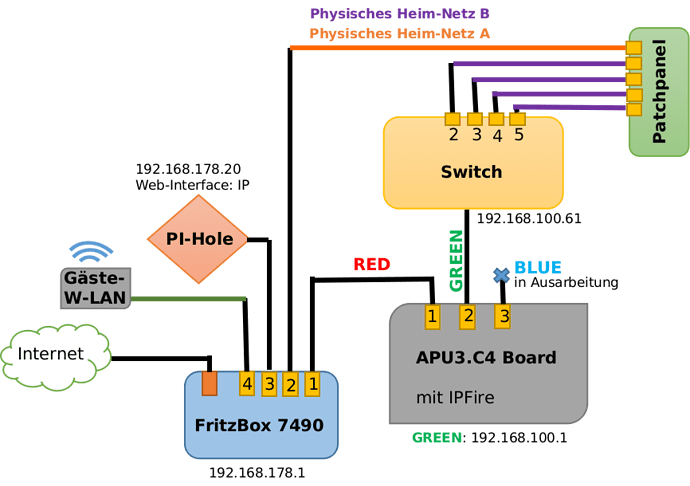 All works fine - PI-Hole is doing the job also.
Only one main issue: i want to see the host ip from the IPFire subnet - within the net of the 7490.
Reason: so i could create time amount restrictions for my kids (IPFire does only provie a time period for internet usage - but not a defined amount of time within this period).
So i want to "unhide" the host IP of the devices behind IPFire (GREEN).
NAT is enabled for GREEN.
Tried to disable NAT (IPFIre WebGUI --> Firewall options --> Masquerading/NAT). Then i still could reach the devices within the FritzBox net (192.168.178.0/24) - but was not able to access to internet.
The FritzBox is configured for use static routes:
Net: 192.168.100.0 (GREEN)
Gateway: 192.168.178.25 (IPFire external ip within net of FritzBox)
I have no special ruled defined regarding NAT. No idea how to get the ips numasked to the fritzbox net. Or how to solve it otherwise.
I you can - please give me a tip what could be done to solve this main issue.